This is my first holiday season as a blogger and I am so excited about it! In the past my husband and family/friends have always said how hard I am to buy for. They always ask me for ideas and I have very few to give them. But now that I am a blogger, this is a very, very different story! Today's post is a guide for you this holiday season! If you have a blogger on your list this should give you some ideas! If you are a blogger, pass this on to your loved ones… think of it as the perfect, not so subtle hint! 🙂 The products on this page are either things I have personally used or are things on my wishlist.
This post contains affiliate links. If you purchase from these links I will receive a percentage (at no extra cost to you) to help support my blog 🙂
2015 Gift Ideas for Bloggers
Unique Blogging Gifts
I'm Famous on My Blog Mug
This is a MUST HAVE on my Christmas list and I have been wanting a mug like this since I started my blog! This is such a unique gift and definitely something every blogger would love! Use coupon code dailydosexoxo (daily dose xoxo) to save 10%!
Bloggers Gonna Blog Mouse Pad
How cute is this mouse pad? It would make the perfect stocking stuffer for any blogger on your list!
Cute Clothing for Bloggers
Books about Blogging
Ruth Soukup definitely knows what she is talking about! I found this book very helpful and loved all of the actionable advice Ruth provides to help you take an in-depth look at your blog. I would highly recommend this book, especially to those who have been blogging under a year or to those who are wanting to start monetizing their blog.
I purchased Abby Lawson's book at the beginning of the summer and I still haven't completely finished it as this book is jam packed with so much helpful information! Abby shares the information she has learned which helped her go from 0 to making six figures in 2 years! I think this is something we all aspire to! Abby has created multiple packages so you can get the information that best suits your need as well as your budget. You can see everything that the book has to offer including a look at the table of contents and a free sample chapter here.
Audible Books Subscription
As a blogger I am constantly wanting to learn more about blogging, social media, networking and sales however I often do not have enough time to sit down and read at the end of the day. Audible is perfect for bloggers as you can get audio versions of great books, perfect for listening to in the car, on a walk or even while doing chores around the house! Audible has a free 30 day trial Try Audible and Get Two Free Audiobooks
. This is a perfect gift for anyone on your list… including you! I love audible!
Programs/Subscriptions Bloggers Will Love
PicMonkey is an amazing online program you can use for editing pictures, doing touch ups, create text overlays and so much more! I use PicMonkey to make all of the images on my blog. While the free programming through PicMonkey is great, I love the bonus features PicMonkey Royale Subscription has to offer! You can get a month to month subscription for a low rate (under $5) or save even more by purchasing a yearly subscription!
If you read this post about scheduling social media and creating an editorial calendar, you will know that I LOVE COSCHEDULE! This app has helped me to get more organized by planning my posts in advance using their online editorial calendar (I prefer online calendars vs physical blog planners). It also saves so much time as you can schedule days, weeks, and even months worth of social media posts at a time! CoSchedule has a great monthly subscription, and they even provide you with a 14 day free trial! This is definitely a tool that the blogger on your list will love!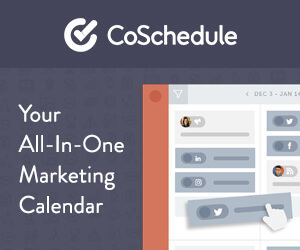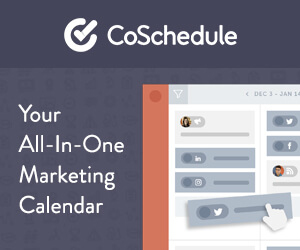 Awesome Accessories to Making Blogging Easier
This portable tray/table makes it easy to blog from the couch or bed! I have had my LapGear LapDesk
 for a few years now and use it daily. This is another gift that is perfect for another with a laptop… not just bloggers!
Having a way to charge your electronic devices when you are away from home is so important! This is a must have on my wishlist! Check out this awesome review by Family Centsability on the MyCharge Portable Charger!
Webhosting
While webhosting may not sound like the most exciting gift, it is essential for every blogger! I have BlueHost for my hosting and I love it! I have not encountered any problems to date and when I had questions about setting up my new domain, I received excellent customer service! You can also purchase domains through BlueHost. If your loved one is looking to purchase an additional domain, I highly recommend BlueHost!
Blogging Photography/Image Tools 
If you are like me, you are not very advanced in photography and rely mostly on your cell phone camera to take your blog pictures. Personally I struggle with keeping my hands still which is why this Cell Phone Tripod
 is very high up on my wishlist! This would make a perfect stocking stuffer for the blogger on your list!
Camera
While I would love a camera, I am not sure that I am at the point yet where I have the time to actually learn to use a DSLR camera properly. However I know many bloggers would be outraged to hear me say this and it is DEFINITELY something many bloggers would love! Check out the great deals Amazon has on cameras & accessories!
Stock Photo Subscription
As bloggers it can be very hard to find quality, suitable and free images to use in our blog photos. It seems that you can often get 2 of the 3 things mentioned above but never all 3! Getting a subscription to use stock photos is something I think all bloggers would truly appreciate!
Here are some subcription programs to check out:
There you have it, my 2015 guide of gift ideas for bloggers! Which item are you wishing for most this holiday season?
Did I miss something on your wish list? Share it in the comments below!